Letter Opener. WKC Mini Sword
Replica of full-size WKC military swords.
Exact details of United States Military swords
Starting at $43
The WKC Miniature Sword letter opener is 11.4" long from tip to stern.
The blade of the Mini is 7-1/2in long.
The sword is made to exacting military regulation standards.
It's appearance and quality is identical to the full size WKC sword.
Standard hardwood desk stand and presentation box is included.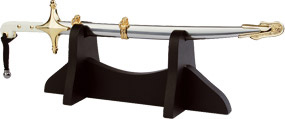 Click on a photo for details and more information.





Additional discounts are not offered on these items.
Great gift idea. Very popular item at the Marine Corps Ball.
Deluxe cherry desk stand with engraved plate and branch emblem is optional.
If you order the mini sword and optional deluxe stand, you still receive the standard desk stand!
A mini sword is not included with the deluxe stand. Please order the mini sword separately.