Select color below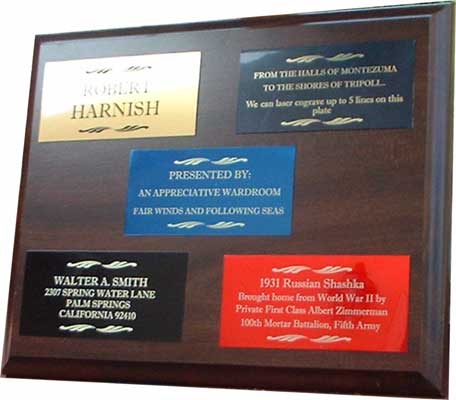 No Discount On This Item
We will laser engrave up to eight lines and up to 35 characters per line. A choice of Gold, Green, Blue, Black, and Red shown on the plaque photo are available. Please use the drop down window to make your selection and enter your requirements in the eight boxes provided below. All engraved plate orders are shipped within 2 business days via U.S. Postal Service Priority Mail.
Laser Engraved Plate 4"x4" #80
Price: $19.50 + 3.95 USPS priority shipping.
Includes up to 8 lines of engraving.

Custom size plates up to 8"x10" are available.
Quantity discounts are available
Call 1-800-344-8421 for a quote.
Business Hours: M-F 8AM-5PM PST
Select Color
First Line
Second Line
Third Line
Fourth Line
Fifth Line
Sixth Line
Seventh Line
Eighth Line