Baby's First Photo: Plaque #114
$49.99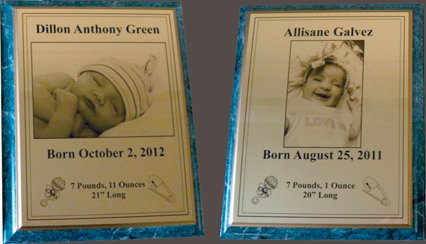 8x10 Turquoise marbleized wood plaque.

Your baby's photo laser engraved on a gold color metal plate.

The laser engraving will never fade, crack, or tear.


Includes date, weight, and length at birth


Click Here to Email a high resolution image to us
.
If you can't send via email, send them through the post
office. Our address is:

All American Gifts
870 E. Research Drive, Suite 8
Palm Springs, CA 92262
Paper Picture(s) will be returned to you when we ship your order.

Have Questions? Need More Information? Call 1-800-344-8421
Business Hours M-F 8AM-5PM PST