Here's the newest items we've added to our product line:
Click on an item to learn more.
---
This 10.5 X 13 Military Wife Plaque features the beautiful tribute to the Military Wife laser engraved into a brass plate and mounted on a sleek Rosewood high gloss (piano finish) plaque with a soft felt backing. Let her know how much her difficult role is appreciated. With different colored plate to choose from, it's a true gift from the heart.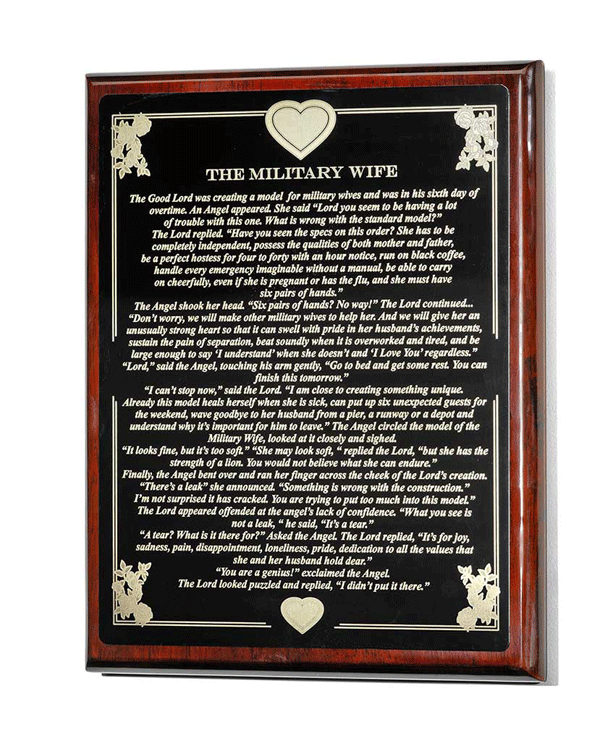 ---
Rank Insignia Mirror Frames
Whether you are creating a lasting memento for your service career, or celebrating the recent promotion of friend, one of our Rank Insignia Mirror Displays is right for you. Framed in your choice of solid oak or solid walnut, the mirror can be laser engraved for any rank in any branch of Service, Air Force, Army, Coast Guard, Marine Corps, or Navy. This display is the perfect way to honor yourself, your friends, and your loved ones and will beautifully accent the décor of either home or office. A keepsake for first termers and the ideal collectors item for career service men and women.
| | | |
| --- | --- | --- |
| | | |
| Item #84 12x16 Mirror Frame | Item #85 8x10 Mirror Frame | Item #86 8x10 Mirror Frame |
---
The most poignant poem describing the role of the soldier in our the American way of life. Brilliantly drafted by Father Dennis O'Brien, this poem is the perfect addition to your home or office. We offer this plaque in two mediums. The first is as an engraved 12 inch by 9 inch Alder Plaque, in which the poem and graphics are laser engraved directly into the wood. This plaque also features a 2 inch Service emblem in the branch of your choice; Air Force, Army, Coast Guard, Marine Corps, or Navy. We also offer the "It's the Soldier" plaque laser engraved onto a metal plate and mounted on a plaque with the wood finish of your choice; oak, walnut, or cherry. Both plaques include two lines of personalization making them the perfect gift for the service man or woman in your life.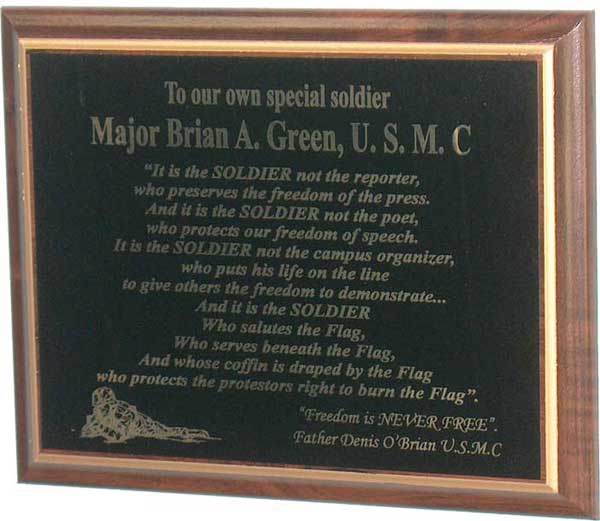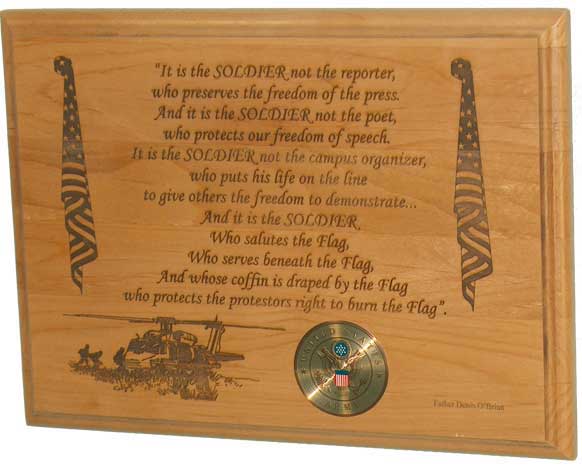 Item# 104A: It's The Soldier Poem Item# 104B: It's The Soldier Poem

---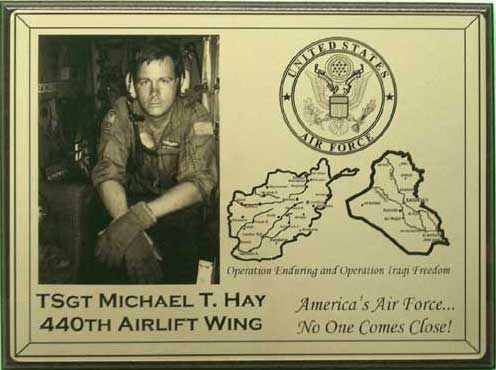 Item # 100. 12 x 9" Laser engraved photo plaque More Info

---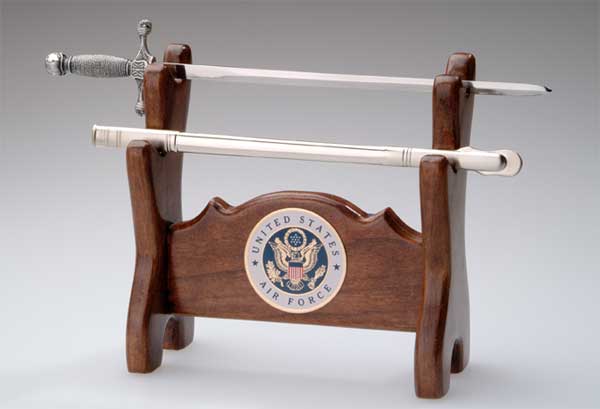 Item # 63 Mini Sword Letter Opener. More Info
---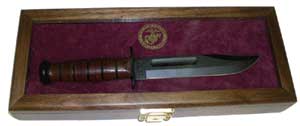 Item #102 Ka-Bar Fighting Knife & Solid Walnut Presentation Case.
More Info

---

Item # 101. 3x5" laser engraved photo plate. Call for info.


---